Permanent Implant Dentures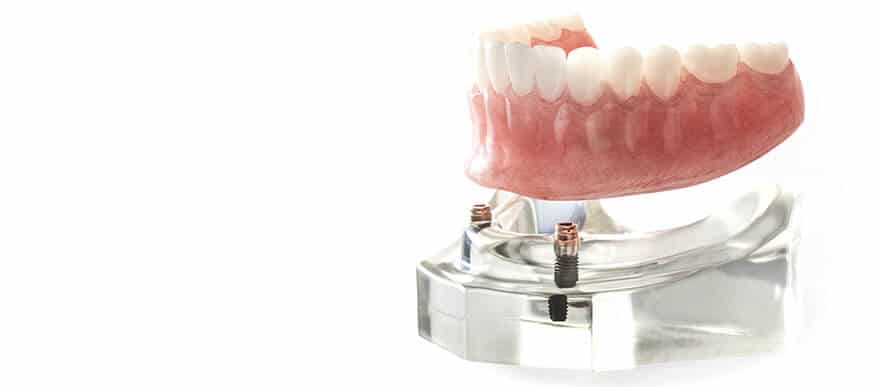 If you need dentures, you might not be too keen on the options that you've seen so far. The idea of having your teeth soaking by your bedside every night is a little disconcerting, and the last thing you want to worry about is adhesives and creams and those little cleaning disks that you put in water like an old Alka-Seltzer commercial.
Fortunately, there is another option. Some denture patients may be able to have permanent implant dentures installed (commonly known as All on Four or fixed permanent dentures). These dentures are permanently affixed to dental implants. You care for them like you care for natural teeth, and they never have to leave your mouth.
Your first step in getting permanent implant dentures is to contact our Plantation dental office to schedule a consultation. During your consultation, our specialists will take x-rays and develop a customized treatment plan for you.
The first part of the treatment is installing the dental implants. These are small medical-grade titanium screws that are attached to your jawbone in an outpatient surgery. You'll be comfortable and probably asleep for the surgery, so you'll usually need someone to help give you a ride home. The dentist will install four to six implants per jaw, but the exact number will need to be determined for each individual.
It takes about two to six months for your dental implants to heal. The bone around the implants will need to heal, and as it does, it will fuse itself to the dental implants. This holds the implants in place permanently.
After the implants have healed, impressions are taken and x-rays of your mouth and send them to the dental lab. The lab uses these to create your permanent teeth, custom-milled to fit into your mouth perfectly!
Implant dentures are attached to the implants by screws. Any minor adjustments to the fit may be made in the office at that time.
To make sure that your permanent denture implants are done right, you need the best implant dentist in South Florida. We offer All-On-4, which is a trademarked name commonly used for fixed dentures or permanent teeth. We invite you to call our office for a consultation today!