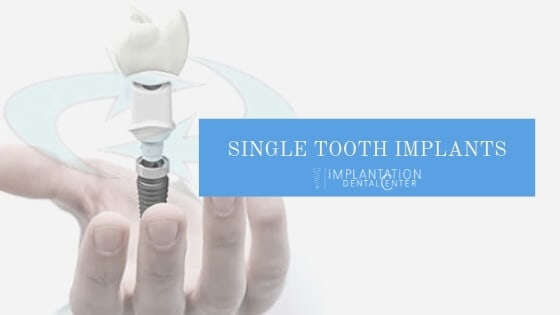 If you're missing a single tooth, a single implant crown is likely to be a good option for you. The process can be a bit lengthy, because the implant must heal completely before the crown is installed permanently, but it's a great option when a tooth has recently been lost.
With a single implant crown, your dentist will begin by installing a dental implant. These lightweight titanium implants are attached to your jawbone in a surgical procedure that usually takes place in your dentist's office. The procedure is done under anesthesia, and your dentist will discuss pain management with you at your initial consultation.
After the implant is installed, the dentist has to wait several months for the bone to heal. When the bone heals, it attaches itself to the dental implant, which makes the implant a permanent part of your jawbone. This can take about six to nine months, but your dentist will give you more specific timelines.
As the implant is healing, you'll want to see your dentist regularly to make sure that everything is healing correctly. When you use the best implant dentist in South Florida, things usually go fairly well. In fact, the American Dental Association reports that about 98% of dental implants are successful.
Once the implant and bone have healed, your implant will be permanently seated in your mouth. The dentist will take an impression of your teeth and will send that impression to a dental lab. In the lab, a crown is created for your implant that fits precisely to your implant and your mouth. It's important to get this right, because the implant will look and feel like your natural teeth.
You'll have an appointment with your dentist to attach the crown to the implant (sometimes called a post). The dentist will use a safe and permanent dental adhesive. You may need a few follow-up appointments as you adjust to the new single implant crown, but your dentist will work out a follow-up schedule for you.
If you're missing a tooth, or if you've been told that you need a tooth extracted and want to consider a single implant crown to help you restore your smile, we invite you to contact our dental office in Plantation to consult with us about your options.
Frequently Asked Questions